Ubiqus is a dynamic, forward-looking company that values its employees, respect for others, and a spirit of initiative.
Our company is experiencing strong growth, driven both by acquisitions and by increasing activity both in Europe and North America. This means there are lots of job and career development opportunities for all our current employees as well as those seeking to join us.
Looking for an Internship in an Industry-Leading Localization Company?
Does This Sound like You?
I am a Master's student in a language programme. I need to complete an internship as part of my degree.
I would like to gain experience on the project management side of the translation industry.
I would like to experience life at a global LSP.
If this does sound like you, please submit an up-to-date CV and cover letter (French and/or English) to intern@www-beta.ubiqus.com and your application will be given consideration by the production team.
Translation Internship Programme
Interns at Ubiqus are given an opportunity to see all parts of the translation business. This can range from assigning translators to translation projects or managing translator testing. At the end of the internship, all interns will have developed a better understanding of life at a major language service provider, new skills relating to project management and use of translation technologies which will benefit them in their future career in translation. Below is a list of some of the responsibilities undertaken by past interns:
Intern Responsibilities
Prepare files for translation using industry-standard tools such as Microsoft Office and SDL Trados Studio.
Prepare translation quotes for sales teams based in Paris and London.
Assign translation projects to translators, proofreaders and DTP resources using in-house management system and CAT tools.
Schedule translation projects in accordance with client requirements and translator availability.
Carry out quality assurance on translations following delivery to ensure high quality.
Manage testing of new translators added to our database by sending their tests to experienced translators and feeding back results to vendor manager and production team.
Create and manage linguistic resources such as translation memories and termbases.
Other miscellaneous tasks linked to translation project management.

Thorough Training
Each intern will benefit from thorough training before commencing any particular task. A development plan will be drawn up at the beginning of the internship by their mentor to ensure continuous learning and development. Training is undertaken through a theoretical and practical approach. Interns will be given demonstrations on how a specific system/process works, documentation relating to the subject, and time spent shadowing the production team to see the reality of day to day responsibilities.
Below are some examples of the main topics addressed during training:
In-house management system (ERP)
The latest translation technology (e.g. SDL Trados Studio)
In-house processes & workflows
You Will be Assigned a Mentor
Starting with us as an intern, you will be assigned a specific mentor. This mentor will be one of the senior project managers on the team. It's their duty to oversee your progress, and are there to support you.
You will firstly start off with a brief training and shadowing period, and then you will be assigned some more basic projects, to provide you with a comprehensive overview of the translation business. Your mentor will be your point of contact for any questions.
When the team are working on something a little juicier, you will have the opportunity to sit in, so that you are regularly exposed to more complicated projects, before taking on something like this yourself.
Your mentor will:
Be there to support you.
Be the first point of contact for any questions you will have (also, all PMs will help out & are super friendly).
Assign suitable projects to you.
Provide a development plan at the beginning of the internship.
Shadow you to provide feedback and advice.
Give you regular feedback on your progress.
Your mentor will be there for you throughout your entire internship.
Ubiqus is a dynamic, forward-looking company that values its employees, respect for others, and a spirit of initiative.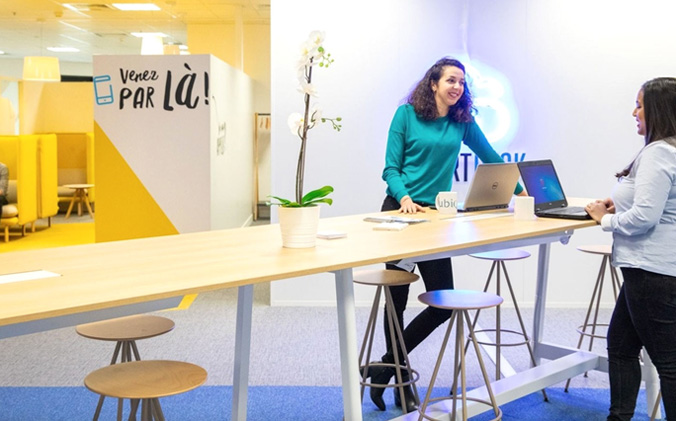 Find out more about
who we are and what we do
Waterford Office Overview
Based in Waterford City, Ubiqus Ireland is part of a multinational transcription and translation company with headquarters in Paris, France.
The Waterford office is divided into two production teams – Transcription and Translation – for our Paris and London offices and therefore our staff are in constant communication with both of these offices. The transcription team handles a large amount of transcription work for the courts in the UK as well as corporate clients for both offices. The translation service handles corporate, legal, as well as public sector work for the UK and France. Ubiqus Ireland has grown from strength to strength in the past few years and now employs 19 full time staff, 8 in transcription and 11 in translation. There is a close-knit atmosphere in the office as we value teamwork and enjoy socialising together. It is also a vibrant place to work as we are a multinational team including Irish, English, Spanish, Italian and French colleagues.
A Strong Social Bond Within the Team
Here at Ubiqus, we are a multinational team and understand the importance of focusing on the social aspect of the job. As people move here from other countries, we want to make sure that there is a strong social bond within the team at work, and an outlet for socialising outside of work too. The events are always great fun, and help build more concrete relationships with your colleagues. Who knows what you have in common with each other, until you're forced into a room and have to break out using teamwork?
What we aim is for one 'Ubiqus sponsored event' per month. Depending on the activity, and the cost, Ubiqus will cover, or partially cover the social club event. The fund is not unlimited, but will cover most events each month.
Over the past year, we have had many different types of events, ranging from bowling to mountain hiking, Laser tag to cycling our Waterford Greenway (see section on Waterford), and even the Escape rooms (if you haven't guessed from above). Of course we will also cover a round of drinks or ice-creams every so often too. All employees are welcome to participate, and we try to make each event accessible in terms of dates etc. for everyone in the office. There is no membership fee, you will be asked for suggestions, and you will be invited to every event, after that, it's up to you to pick and choose!
Apart from our social club, we always enjoy our night out at Christmas, where employees go out for a dinner and some drinks.
We hope to see you there!
The name Waterford comes from Old Norse Veðrafjǫrðr, meaning ram fjord. The Irish name is Port Láirge, meaning "Lárag's port". Waterford is the oldest city in Ireland, famous for its crystal ware and intriguing medieval history. It is situated in the South-East region of Ireland and has a population of just over 53,000 people. It is the fifth most populous city in Ireland.
To Try While in Waterford
A blaa: A floury bread bun unique to this area of Ireland. 
Metalman Pale Ale: A beer brewed in Waterford. Named after a famous landmark "The Metalman" at Tramore on the coast of Waterford. 
Watch a hurling match at Walsh Park.
Activities
Waterford Viking Triangle is Waterford's cultural and Heritage quarter. It comprises of a number of museums
Waterford Crystal
Waterford Museum of Treasures
Reginald's Tower
The Bishops Palace
Christchurch Cathedral
Leisure Activities
The Waterford Greenway: A 46 km off-road cycling and walking trail along an old railway line between Waterford and Dungarvan
There are lots of cliff walks in the surrounding area as well as trails in the Comeragh Mountains
Surfing and kite surfing
Kayaking
Horse riding
Swimming
Dunmore east adventure centre (sailing/Wibit Aquapark, Caving, Archery…)
Bowling
Laserblast
Local festivals: Spraoi Street Festival, Waterford Harvest Food Festival, Dunmore East Bluegrass Festival, Tramore August Festival, Promenade Festival (Tramore)
To get to Waterford from abroad we would strongly recommend you arrive in Dublin airport (rather than Cork or Shannon) when going to Waterford as there are buses that leave from the airport Coach Park that go to Waterford. This means of transport is the cheapest but also the handiest when you are travelling with luggage.
By bus
Bus Eireann provides the State bus service in Ireland. The main Bus Terminal is located right in the heart of the city. Bus services run from all major cities and smaller towns into Waterford and is probably the easiest and least expensive way to travel to the city.
Click here for Bus Timetable – Dublin to Waterford
Rapid Express operates to Waterford beginning at Dublin Airport and ending at the seaside town of Tramore in County Waterford.
Dublin coach also operates a service from Dublin city centre to Waterford, or from Cork city centre to Waterford.
By train
Plunkett Railway Station is the name of the train station in Waterford. It has direct connections to Dublin (Heuston Station) via Carlow and Kilkenny, and to Limerick via Tipperary.
Expertise
& certifications
Shall we talk about your project?
Satisfied clients who don't hesitate to tell us so