Ubiqus NMT is Now Available in
Memsource Translate
Ubiqus NMT
, one of the proprietary machine translation solutions developed in-house by Ubiqus, is now available from
Memsource Translate
, a new aggregator of automatic translation engines developed by
Memsource.
Launched in Spring 2020, Memsource Translate is a simple interface through which users have freemium access to consumer-oriented general translation, as well as access to more specialised machine translation engines, including Ubiqus NMT, that can be added in just one click.
Ubiqus NMT is one of five engines that users can add to their Memsource Translate interface. Unlike other specialised engines, though, Ubiqus NMT does not require access to Memsource Enterprise. Therefore, any user of Memsource Translate has the opportunity to test the quality of Ubiqus NMT.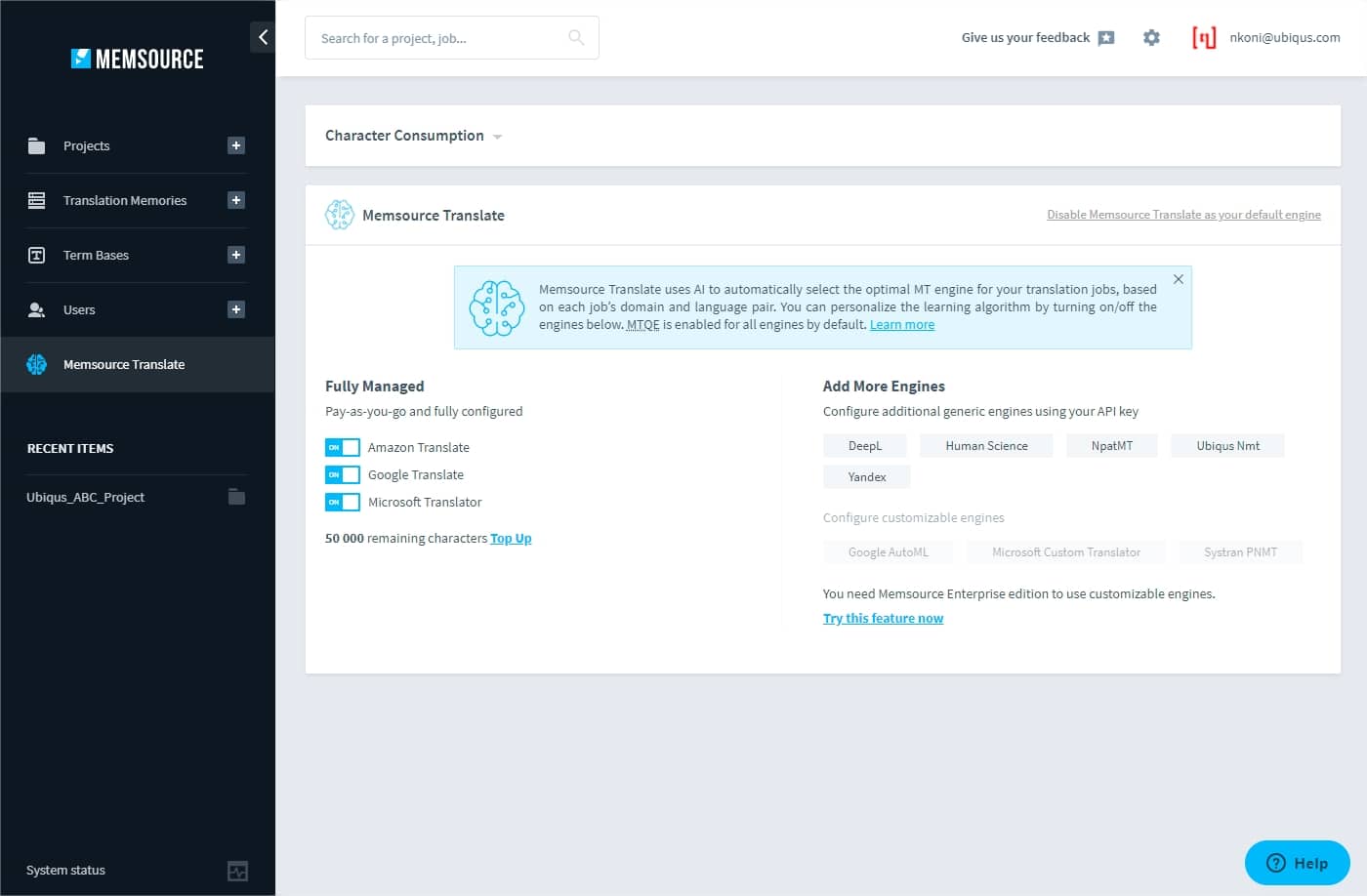 How is Ubiqus NMT different from the other engines available in Memsource Translate?
At first glance, Ubiqus NMT is available through Memsource Translate as an additional generic engine that can be installed in one click. However, Ubiqus NMT offers a breadth of engines for varying levels of translation needs.
General translation engines
Industry-specific engines
Custom engines upon request
General translation engines
Of the 300+ engines available through Ubiqus NMT, 80% are for general translation, covering most of the language combinations frequently requested by internal or external linguists working with entities both large and small.
Sector-specific engines
The remaining 20% of engines are specialised for such industries as finance, medical, legal or technology. Linguists using Memsource Translate can access these engines when they add Ubiqus NMT.
Personalised engines
For clients with large volumes of highly specialised content, Ubiqus can customise an engine and train it to translate into the precise context of the client's needs.
To achieve the best results, the client provides Ubiqus with a corpus of bilingual or monolingual texts, translation memories and their particular terminology. This exchange takes place in a secure, confidential environment, and the client becomes the owner of its new personalised engine. The result is an engine specifically designed to meet the client's needs.
How does the quality of Ubiqus NMT compare to human translation?
High-quality translation isn't limited to specialised engines, however. Ubiqus NMT is based on Artificial Intelligence that Ubiqus has been developing since 2016. Our neural engines were first developed as an internal tool. As a result, they were tested by the most intransigent of quality controllers: our translators. Once our linguists were satisfied with the quality of the translation, Ubiqus decided to make its NMT engines available to clients.
Now, the Memsource community has access to this same quality of translation when they add Ubiqus NMT.
How to use Ubiqus NMT in Memsource Translate
Memsource Translate users can contact Ubiqus to learn more about Ubiqus NMT. Our sales team will examine the user's needs and recommend the right engines, and then provide a unique, personal and secure API key that provides access to the engine.
Once the API is enabled, users go to the Memsource Translate tab and click the Ubiqus NMT button under "Add more engines".

Interested in using Ubiqus NMT in Memsource Translate? Click here for more information or contact us to acquire a test API key.
When working with multiple translators, a translation style guide will keep their translations consistent with each other and with your brand.
read more
In 2021, Ubiqus turns 30! Read Ubiqus' "bio" and discover our Anniversary logo, from an internal company competition.
read more
Shall we talk about
your project?