Did you know that Ubiqus turns 30 this year!?
It was in 1991 when two young entrepreneurs founded 'Hors-Ligne', which then grew to become Ubiqus.
The company launched in France with an innovative concept: disrupt an industry, where stenographers had reigned supreme for a number of years, by offering real-time note-taking services to listed companies for their live financial results presentations. It turned out to be a huge success and the foundation was laid for Ubiqus to grow.
Let's celebrate together!
Since then, this small French company has become the Ubiqus Group, an international language services provider, operating globally, with offices in eight countries.
Today, Ubiqus' success still comes from you, our clients.
Together, we have all contributed to getting Ubiqus into the TOP 25 of the world's largest Language Service Providers… and that's why we'll celebrate this special occasion together.
Throughout 2021, Ubiqus will set up activities and events, locally or internationally, to celebrate our 30th birthday! And what is a corporate anniversary without an anniversary logo?
Commemorative logo
When we decided to create a logo celebrating our 30th anniversary, we thought, "Who better to come up with it than the people who helped get us here?"
So, we reached out to our employees and asked them to unleash their inner artists and design a new logo.
We received dozens of terrific ideas and narrowed the list to the final five.
We put it to a vote across the entire company, and Henri-Paul's submission was the winner!
Congratulations to Henri-Paul Loiseleur in Ireland, winner of the Ubiqus 30th Anniversary Logo Contest!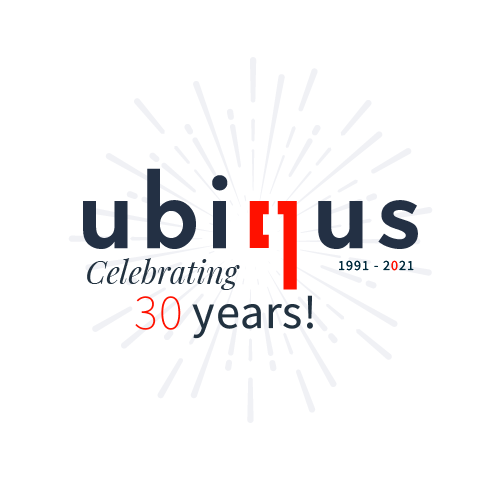 Stay tuned!
We will inform you regularly of our 30th Birthday updates via our website, social media channels and emails. Stay tuned!
A lot happens on a campus: lectures, interviews, special events and more. Academic transcription is a valuable service if you want to capture these moments and preserve them for posterity.
read more
What happens when you need remote simultaneous interpretation but the feature isn't available in your meeting platform? This case study shows how Ubiqus brought together multiple resources to create a remote interpretation feed.
read more