Ubiqus supports you with custom solutions designed to meet your communication challenges
Client satisfaction is our top priority. It is achieved on the basis of firm commitments, consistently upheld by all the Group's teams, to produce high-quality documents, even within short time frames; to provide a responsive service whatever the circumstances; and to be in full control of confidentiality at all times.
Using our values as a bedrock, we put in place the right organizational set-up to ensure the highest quality for our clients, wherever our offices are located in the world.
Because each project is unique, we work closely with you to evaluate what is at stake and what is required so that we can then apply the appropriate solution.
This consultative, client-centered approach enables us to provide personalized, effective and flexible services that meet your specific needs.
Whether you are developing a new market or want to communicate with a multilingual clientele, we are able to give you help and guidance with anything from the simple translation of a document to the interfacing of our solutions in your digital workplace.
Quality is our primary commitment.
Our teams are made up of experts with advanced language and technical skills:
Our writers are professionals with university degrees, who work regularly with the company
Our translators, in-house linguists and project managers are experts in their respective fields (legal, medical, technical or financial) and have several years of experience behind them
We foster close relationships with our clients by offering personalized project monitoring.
We continuously assess client satisfaction in order to improve our services.
Our certifications attest to the professionalism of our teams and the rigorous quality control applied throughout our processes.
Because each project is unique, we work closely with you to evaluate what is at stake and what is required so that we can then apply the appropriate solution.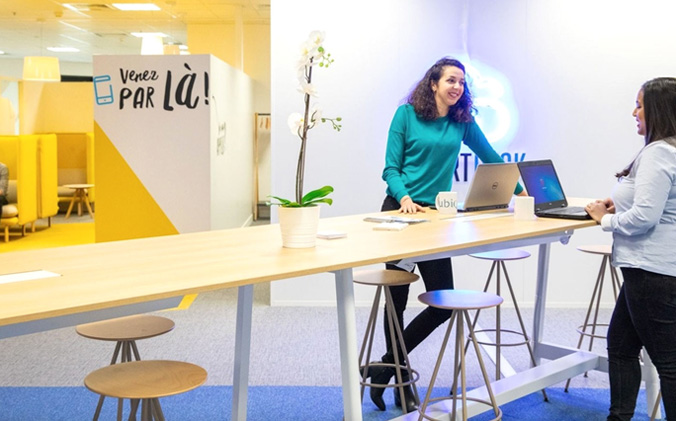 Find out more about
who we are and what we do
Because we know that you sometimes have to work under tight deadlines, we will rapidly put in place the right solution to the issue you need to resolve.
A project team is dedicated to your account. They will act quickly and in line with your expectations.
Our offices are located all over the world. This means we can apply a tailor-made process to complete your project.
Collaboration with our clients is based on transparency and trust.
When you choose Ubiqus for your projects, you are choosing a deeply committed team.
We aim to build long-term relationships with our clients. We are dedicated to ensuring that you benefit from optimized processes and the best solutions we have to offer.
Communication in today's world is instantaneous and multi-channel. For this reason, we strive to constantly push back the boundaries of what is possible in terms of language technologies to develop new solutions. We combine the expertise of our teams and the technological power of our AI to develop transcription and translation services that are scalable and adapted to the new uses of our clients.
Our R&D Ubiqus Labs team has developed its own automatic translation (Neural Machine Translation) and automatic transcription (Audio Speech Recognition) technology.
Security and confidentiality are the cornerstones of our processes. We sometimes work on sensitive subjects and we undertake to guarantee the confidentiality and security of the information we handle.
Our servers are based in New York and meet strict security standards
We provide a secure client area where you can track the progress of your projects
Our employees are familiar with and apply GDPR procedures
Satisfied clients who don't hesitate to
tell us so
Expertise
& certifications
Shall we talk about your project?
Satisfied clients who don't hesitate to
tell us so