Ubiqus is a dynamic, forward-looking company that values its employees, respect for others, and a spirit of initiative.
Our company is experiencing strong growth, driven both by acquisitions and by increasing activity both in Europe and North America. This means there are lots of job and career development opportunities for all our current employees as well as those seeking to join us.
Giving everyone the opportunity to flourish professionally
Ubiqus's commitment to training and stimulating dynamism is an opportunity for motivated young employees. The Group also values more experienced employees: they bring their vision, the lessons learned throughout their career and their skills, making an important contribution to the company's human richness and diversity.
Ubiqus is also committed to recruiting and integrating employees with disabilities.
A company that listens to its employees
The Ubiqus Group aims to be a friendly, open company that upholds human values. Our attitude to our employees is the same as our attitude to our client relationships. Our practices are guided by simplicity and agility, both in terms of the processes we apply and in how we communicate with each other.
The company's HR management principles
The principles that underpin our HR management aim to encourage initiative, autonomy and enthusiasm.
Ubiqus listens to the professional aspirations of its employees, when these are clearly expressed, and as long as the individual in question has proved they have what it takes to progress to the next stage of their career. At the same time, Ubiqus does not require any of its employees to commit themselves beyond the conscientious performance of the tasks entrusted to them. You don't have to demonstrate that you are driven to see your work appreciated!
Ubiqus defines the responsibilities and pay level of its employees through direct, individual and ongoing discussion
Ubiqus highly values those who can analyse and give thought to how the company operates, and make suggestions for how to improve it
Ubiqus evaluates and rewards its employees on the basis of what they do, not what they intend to do, on what has actually been achieved and not on what may be achieved
Ubiqus encourages bold initiatives and recognises everyone's right to make mistakes
Ubiqus is committed to a policy of promoting diversity, in particular through the recruitment and integration of employees with disabilities and the rejection of any form of discrimination based on age, origin, etc.
Ubiqus is a dynamic, forward-looking company that values its employees, respect for others, and a spirit of initiative.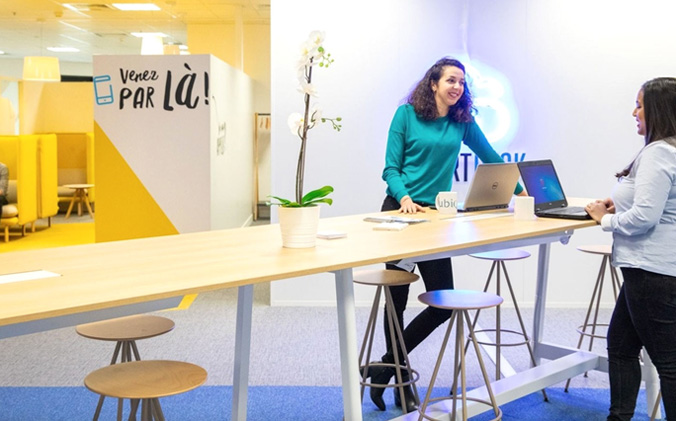 Find out more about
who we are and what we do
The main types of post available
Ubiqus is constantly looking for qualified and talented people to join our team of professionals in language, transcription and events.
Whether you are just starting out are looking to change careers, we offer a wide range of opportunities.
Roles:
Writers
Translators
Interpreters
Transcriptionists
Account managers
Ubiqus is an Equal Opportunity Employer. It considers applications for all positions without regard for race, religion, colour, gender, nationality, age, disability or other categories subject to discrimination and cited in federal, state or local law.
Expertise
& certifications
Shall we talk about your project?
Satisfied clients who don't hesitate to tell us so