Ubiqus for Relativity: 
one plugin, many language services
Ubiqus Translation & Transcription
Fully Available in Relativity
Most legal professionals are well versed in Relativity, a leading e-discovery platform that helps users organise data, discover the truth and act on it.
This software is used by thousands of organisations around the world to manage large volumes of data and quickly identify key issues during litigation, internal investigations, and compliance projects.
It seemed natural for Ubiqus to partner with Relativity and develop a plugin capable of bringing our seamless language-processing services to busy Relativity users.
Ubiqus for Relativity is featured in the Relativity App Hub here.
Ubiqus for Relativity: Ubiqus' language expertise within Relativity
Ubiqus for Relativity helps busy Relativity users speed up language-processing tasks in their e-discovery workflows. It combines state-of-the-art machine transcription and machine translation and offers human proofreading for both services.
Translate Data in a Foreign Language
Quickly analyze large volumes of data in a foreign language and translate it accurately into your own. We cover all common languages with language-specific engines and most other languages with our unique multilingual engine.
Transcribe Audio Recordings or Videos
Automatically transcribe audio recordings or videos into English, French, Spanish, or other languages. View and edit the resulting transcription in our interactive media player.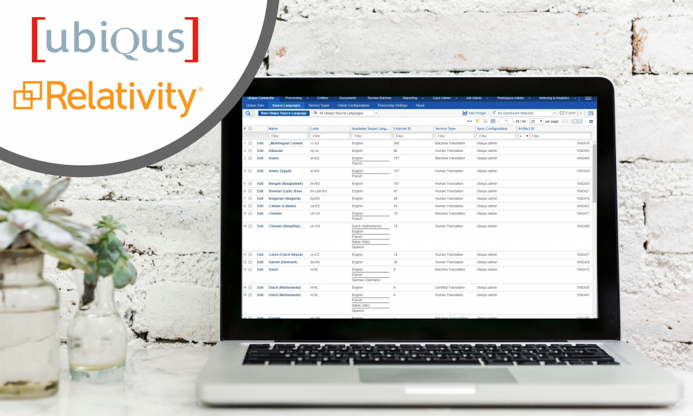 Document Processing
Any of our documents, translations or transcripts can automatically go through processing for easy search and review.
Post-editing Services Available
Our built-in ordering tool allows you to request a highly qualified human translator or transcriptionist to proofread critical files.
Key Features
of Ubiqus for Relativity

Fully integrated in your e-discovery platform either server or online version, the Ubiqus plugin combines machine transcription and machine translation in one place. It's easy to set up, uses familiar Relativity objects, and enables secure file transfer between Relativity and Ubiqus with optimum security and confidentiality.

Easy Language Set Workflow
Quickly run ad-hoc submissions from the documents tab or link a saved search to a Ubiqus set.

3-in-1 High-quality Translation Plugin
Whether you need proprietary neural machine translation, highly qualified human translation, or legally certified translation, the Ubiqus plugin puts all three at your fingertips. Translations are retained in Microsoft file formats for easy reading and analysis, and all major languages are supported.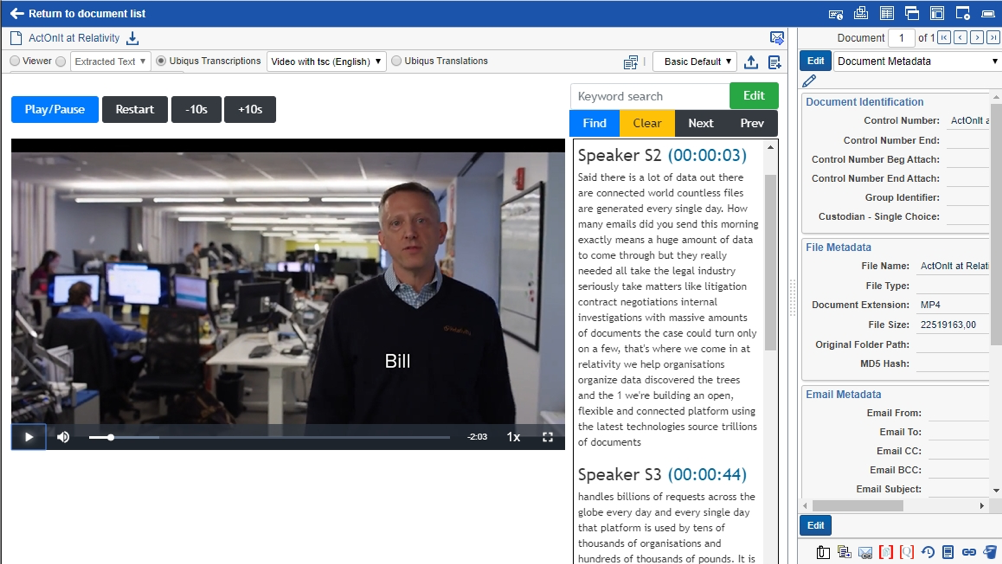 Transcription Plugin with Built-in Interactive Media Player
Ubiqus provides both proprietary neural machine transcription and professional human transcription. The resulting text is searchable and editable and published in our user-friendly interactive audio and video player.

Simple and Transparent Pricing Structure
Order machine or human services in a few clicks. Request a quote from within the plugin for any language that is not part of the initial agreement.

Ubiqus Content Automatically Goes into Processing
The "Ubiqus family" function automatically creates a connection between the source and the translated document, so you can analyze and review the resulting text as if it were an original.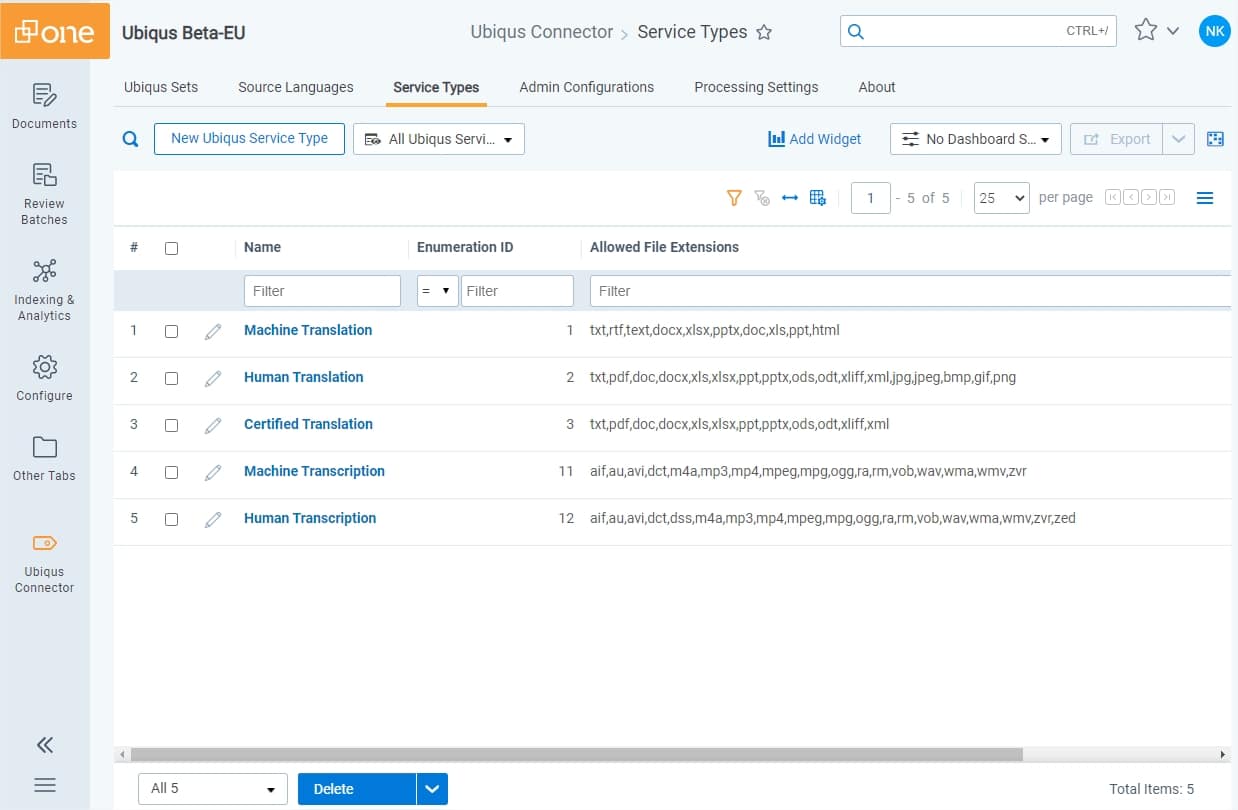 Launched in September 2020, AERO UI provides a more intuitive user experience with workflow-based navigation settings, an updated document viewer and a modern look and feel. Ubiqus for Relativity is compatible with AERO UI, allowing Relativity users to access Ubiqus translation and transcription services from a more user-friendly interface.
Support in multiple versions
Ubiqus for Relativity can be utilised in Relativity versions 9.7 to 10.3, making Ubiqus translation and transcription available in whatever version your firm is using.
Combining technology and human know-how

at Ubiqus
Are you used to the quality of Ubiqus documents and the idea of testing automatic transcription is tempting? Give it a go! The standard quality level of an automatic transcription remains as high as that of a "traditional" transcription. And in any case, once the automatic transcription has been carried out, a human translator proofreads the transcription…just as they would for a traditional transcription!
The sectors using

language technology tools
Learn about technology-enhanced language services for your industry.
Finance
• Standard translation
• Automatic online translation
• Minutes and summaries
Employee Relations
• Disciplinary and Grievance meetings
• Appeal Hearings
• Minutes and summaries
Technology
• Automatic online translation
• Translation API and connectors
• Video content localization
• Optimized web translation
Public Sector
• Minute-taking and summaries
• Translation
• Interpreting
Legal
• Legal translation
• Sworn translation
• Online legal translation
Lifestyle
• Subtitling of your promotional videos
• Adaptation of your packaging
• Translation of your e-commerce site
Medical
• Specialized translation
• Medical transcription
• Online medical translation
Industry
• Technical translation
• Compliance with your industry standards
• Minutes and meeting summaries
Aerospace
• Technical translation
• Interpreting
• Writing minutes and meeting summaries
Luxury
• Translation and proofreading
• Graphic design
• Copy editing
Shall we talk about your project?
Satisfied clients who don't hesitate to tell us so